some more geekery, promise i'll cut back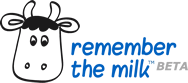 i couldn't help myself. the cow was just too cute.
rememberthemilk
is a web tool, when stripped down to just the utilities, is a to do list combined with reminder systems for individuals and project groups. and it's cute. now if there was only a way to synchronize with PDAs (not that i have one), cos otherwise it's just making the user a slave of the web. here's a
video demo
of the service.
there's a general trend of moving software applications to a web interface. shifting to server side. wifi lobbyists. $100 laptops in third world countries. how long would it take to get the world completely networked? hm.
IE7 finally incorporated tabbed browsing (hallelujah! now it'll probably take 2 years before i get it at work, bah). i took a look at some of the screenshots, and
this one is my favorite
. thumbnail views of all tabbed pages, fantastic!
another browser also caught my attention, and that's the
maxthon
. it looks really powerful, and if i were geekier i'd probably install it just to tinker with.
its version of the thumbnail view
of tabbed pages is akin to MS Word and MS Excel's arrange window function. another cool feature is that you can reorganize the tabbed pages. that's one of the things that's been driving me mad about firefox, but i've learned to cope with it (inner calm, om, serenity now, people get used to anything).
here's the
full article
on the IE7 review.